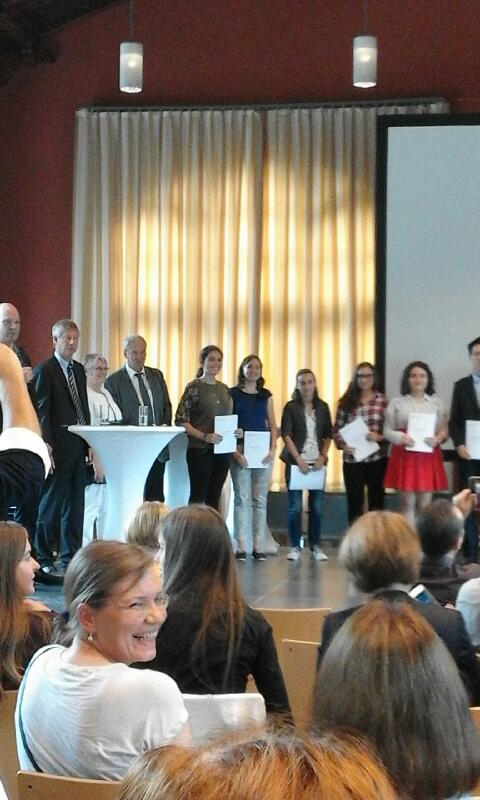 Bundeswettbewerb Fremdsprachen – hört sich so wichtig an. Einzigartig. Kreativ. Außerordentlich? Herausfordernd? Unheimlich Spaß? Ja, das alles. Zum dritten Mal durfte ich am letzten Wochenende teilnehmen, doch diesmal nahm ich zwei weitere Sprachtalente und DSP-Vertreter mit: Isabel Relvas und Tomás Reis Vaz.
Chegámos à pousada no dia anterior à apresentação, ligeiramente desorientados e cada um com as suas expectativas. No dia seguinte, conhecemos os nossos colegas – a concorrência, mas, acima de tudo, os nossos soon-to-be amigos. Recebemos as tarefas de grupo, algo que nos roubou a maior parte do tempo e foi causa de stress, mas que também nos proporcionou uma oportunidade ideal de fazer amizades.
Além disso, o sábado e domingo de manhã foram preenchidos com o debate multilinguístico e não pouco filosófico, as provas orais individuais e, para muitos, o TOEFL.
Needless to say, that was one very challenging, fun and quite tiresome weekend. Sunday afternoon was more relaxed: after presenting our videos and "theatre plays" (our answers to the group tasks, entitled "Magdeburg – yesterday, today, tomorrow"), we had dinner at a great restaurant and relieved all remaining tension at a nearby adventure park.
Monday morning was filled with the closure and prize-giving ceremony, where a beautiful choir and endless speeches stretched our nerves to their max. Finally, we learned that we would be bringing one 3rd and two 2nd prizes home, along with a reason for our after all so language-oriented school to be proud of us. Somehow, I ended up winning an English prize too, a trip to a university in California next summer. This was, of course, as fully unexpected as it was awesome.
Et ben, le Français manque encore, donc on y va. On peut conclure qu'on n'a pas seulement connu Magdebourg et testé nos aptitudes linguistiques, mais on a surtout interagi, discuté et partagé des expériences tant drôles qu'uniques avec des gens qui pensent comme nous. C'était un long week-end plein de moments spéciaux, qui est fini trop rapidement. Pour moi, c'était la dernière fois que j'ai pu participer (et ça, c'est trop dommage), mais j'espère avoir convaincu mes deux partenaires des langues – et, qui sait, peut-être que quelqu'un de vous les accompagnera la prochaine fois? Je vous garante, ça vaut certainement la peine. Pour le faire, n'oubliez pas de vous inscrire jusqu'au 6ième octobre, sur ce site: https://www.bundeswettbewerb-fremdsprachen.de/mitmachen/solo-plus-2017 .
Et pour finir (oui, c'est nécessaire), quelques mots de bon courage pour vous en chinois !
语言很有趣和独特。祝你们好运!